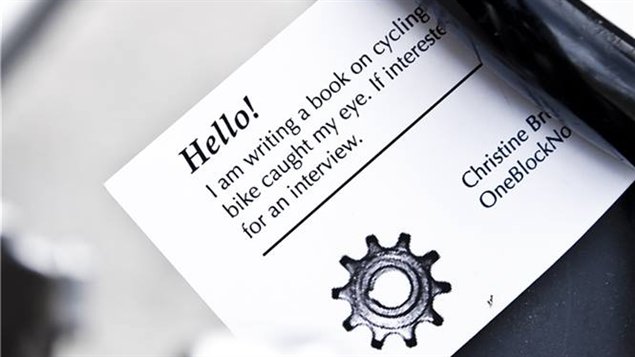 A famous saying claims: "Tell me who your friends are and I will tell you who you are." But in bicycle-friendly cities like in Toronto, Canada, it can also easily be claimed: "Show me, or tell me about, your bicycle and I will tell you who you are." Christine Bruce, a Kingston, Ontario-based bicycle commuter and author, did just that – and has unearthed interesting tales.
"So it started with me volunteering at a valet bike parking event," as she explained. The group of volunteers she was part of set up a pen where Torontonians were encouraged to safely park their bikes and leave their cars at home. This bicycle babysitting service took away commuters' fears of having their bike stolen.
As these cyclists dropped off their bikes, as they probably dropped of their children in a daycare earlier in the day, "their story would invariably come out," said Bruce. As many city bachelors have found out, "Nice dog" is a popular pick-up line around the city's many parkettes. In Toronto or many urban centers, people love talking about their dogs. As Christine Bruce found out, people seem to equally have a lot to say when they hear: "Nice bike."
"It was always a unique story, and it was always something that inspired me to get on my bicycle," as she confided.
Collecting stories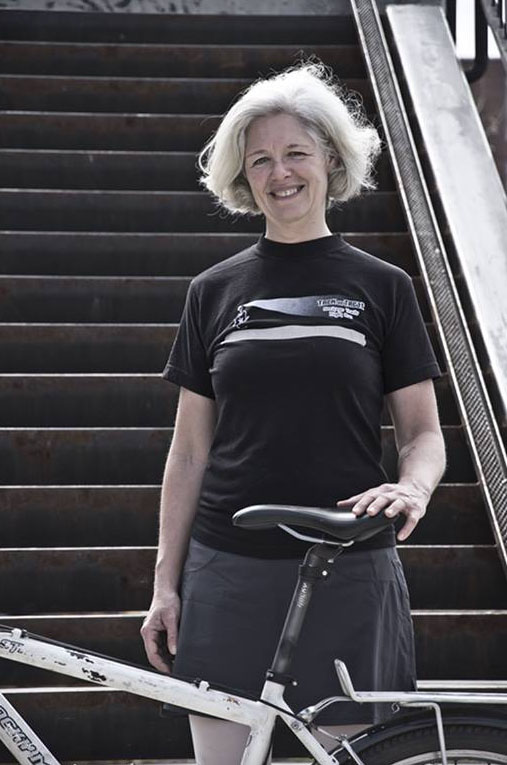 Christine BruceBefore long, Bruce thought about collecting all these stories and publishing them in book format. She thought making these interesting stories available to a wider audience would serve to encourage more people to get on their bicycles. She titled her self-published book This Road Continues One Block North – which is further complemented by her blog.
Christine Bruce interviewed about 150 people in the city of Toronto during her yearlong endeavour. Interestingly, she says that none of the stories were like the others. "I started out by putting business cards on bicycles; so I didn't know what kind of stories I would get," as she recounts. The cards would say: "Hello! I am writing a book on cycling in Toronto and your bike caught my eye. If interested, please contact me for an interview."
In addition to getting calls back from people who wanted to share their bicycle stories, others would call her to give her recommendations. "You should really talk to so and so," or "you should really see this bicycle parked around the corner," they would say.
"The stories range from a little girl who's just taking the training wheels off her bicycle. I watched her do it. That's a moment that everybody experiences right? If you've ridden a bicycle then you've been there. All the way up to 60-something-year-old women who travel all around Ontario's Great Lakes by bicycle just for fun. And people who build interesting designs like tall bikes, chopper bikes; people who are trying to get to work with things to haul so they get into a cargo bike situation. So the range is as broad as you can imagine." In fact, these are "love stories" about their bicycle, she added.
Bike Stories Around the World
While the book focuses on bicycle stories around Toronto and Kingston, the author's also had the opportunity to observe the culture of bicycle commuters around the world. She believes that bicycle stories are unique to each environment. Having travelled to other Canadian cities like Montreal, Ottawa, and Halifax -- as well as elsewhere in the world, in places like Mexico, Indonesia, Iceland, and Germany, Bruce comes to the conclusion that: "every city's experience is certainly based on the geography, climate, politics, sociology, and the economy of the place."
"We all have different opinions of the rules of the road and how we treat each other." North American culture for instance, partly due to its vast landscapes, is more of a car culture. So cycling can often be perceived mainly as a form of recreation that actually transportation – as they would more likely be viewed in Europe.
While Christine Bruce hasn't set out to write a follow-up book of bicycle stories in other cities and parts of the world, her blog serves as an on-going platform to share these stories. With her book and the blog, Bruce isn't only trying to appeal to her main audience of current bicycle commuters. She also wants non-riders to read these stories and be inspired to pick up a bike.
"I'm trying to throw you off when you pick up the book," she says. "I'm trying to encourage people who would never consider a bicycle to just open the page, look at the pictures and just start reading."
Explore Further
Video of the project
Click Here for Bikes built specifically for City and Town Commutes from CommuterBikeStore.com
Related articles